By Amanda Andrei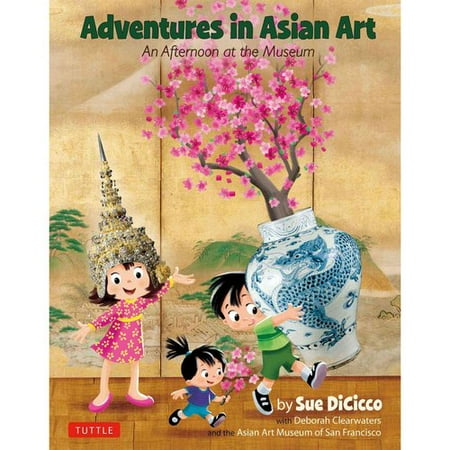 Adventures in Asian Art: An Afternoon at the Museum by Sue DiCicco (with Deborah Clearwaters and the Asian Art Museum of San Francisco) follows three young children and their mother as they explore over fifty artworks and artifacts from San Francisco's Asian Art Museum. Each page is a fabulous spread with a photograph of an art piece and the illustrated family interacting with it: dancing with a lion-headed Tibetan Sky-walker or a relief of Ganesha, admiring Indonesian puppets and Japanese netsuke (miniature sculptures), trying on traditional Korean hanbok (special robes) and samurai suits, and meditating with an ancient stone sculpture of the Buddha and a Chinese cloth mandala. The art spans from the ancient to the contemporary, covering a wide spread of mainland Asia and some of maritime Southeast Asia. Short quatrains provide a poetic touch for the child reader, while more in-depth descriptions and questions prompt a caregiver to start conversations with their child. Perhaps the most ringing endorsement of all is from my toddler. Upon seeing the full page spread of the vividly colorful Dragon Fortune by Hung Yi, made of enameled steel in 2014 and spanning 101 inches in real life, my daughter happily and urgently insisted that I place the book down so that she could sit on the book and interact with the dragon. This book will please and educate readers of any age, expanding their imaginations and teaching them how to play with and appreciate art.
My First Book of Chinese Calligraphy by He Zhihong and Guillaume Olive is a comprehensive review of the art of calligraphy (decorative handwriting) that also provides hands-on exercises and instructions for your budding calligrapher. Binder-style, so that it can be propped up in front of paper and ink, the book goes through the history and legends of Chinese writing and etymology, demonstrates the strokes, details the needed equipment with photographs, and introduces several radicals and characters that students can practice drawing. The book celebrates the beauty of writing beyond alphabets and writing as an art form and a meditative practice. Beautiful color ink wash illustrations throughout the book provide a lush and contemplative feel, and an included CD provides more information beyond the text. Anyone with an interest in art, language, or China will find this book a valuable and rich resource.
If you want an alternative to ink, try paper folding instead with a variety of origami kits. For beginner students wanting an easy introduction to the art form, Origami Made Easy Kit by Francesco Decio and Vanda Battaglia offers a full-color 96-page book with step-by-step folding instructions for everything from a fish to an iris, a rectangular box to a modular chessboard. There are also links to free YouTube tutorials. If you are beginner/intermediate level or want to try making more specific forms, you can pick kits based on animal (Origami Bugs, Origami Dinosaurs, Origami Birds) or biosphere (Origami Jungle, Origami Aquarium). All kits are created by Michael G. Lafosse, a world renown origami artist and co-founder of Origamido Studio, a teaching and resource center, exhibits gallery, and production facility for fine and decorative paperfolding arts. While the instructions are easy to follow, there is a slight learning curve that evens out after creating more and different origami objects. And in case you mess up, there's plenty of paper – over ninety charming sheets in every kit, tying into each theme. For instance, Origami Jungle has paper with leopard and cheetah print, red reptilian scales and blue zebra stripes. Origami Birds has prints of peacock feathers and swans, a whimsical touch to making, say, a swan covered in swans. Some origami requires glue or multiple pieces to assemble, but the process is worthwhile, calming, and delightful.
Adventures in Asian Art: An Afternoon at the Museum by Sue DiCicco (with Deborah Clearwaters and the Asian Art Museum of San Francisco), My First Book of Chinese Calligraphy by He Zhihong and Guillaume Olive, and origami kits can be purchased through www.tuttlepublishing.com.
Comments
comments